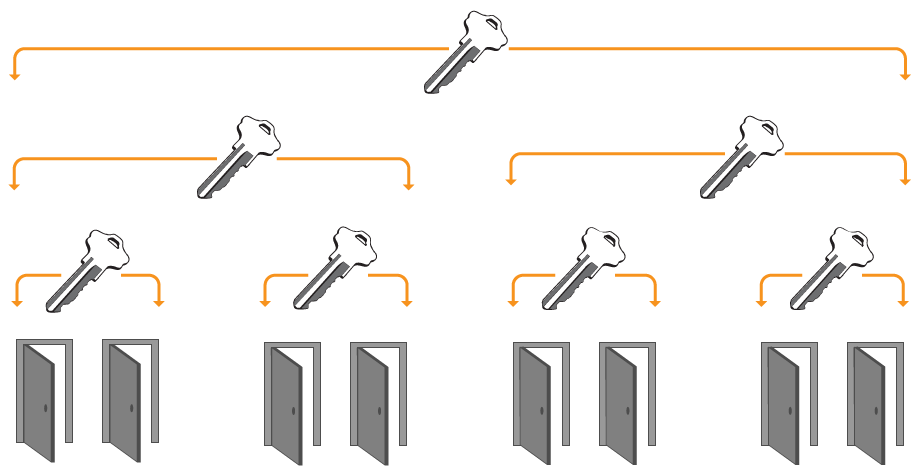 Master Key System
A master key system is a layered security protocol that consists of cylinders and locks that allow different key groups and holders to gain access into specific areas of a building.
Put simply, a master key system is a lock system that is structured to be unlocked by a designated key or keys, and can also be unlocked with a master key.
Our locksmiths at Surprise Locksmith 24 install and build suitable master key systems for your commercial property. Once you contact us, our locksmiths work with you to design a master key system that best fits your needs. We offer on-the-spot master key system installations for office and apartments – saving you a lot of money in the process.
Is Master Key System the Solution?
Our technicians are readily available to provide answers and solutions to any master key related questions you might have. If you are considering having a master key system installed or you are wondering if it is the best choice for your property, our locksmiths will carry out an appraisal of your apartment building and provide valuable information on the importance of installing one, and any of its potential drawbacks.
Master key systems can fit into an extensive range of residential and commercial properties including:
Government institutions

Warehouses

Schools

Hospitals

Office buildings

Apartment buildings
Benefits
Master key systems offer a great level of convenience, allowing business owners have access to all the doors in an apartment with a single key, rather than carrying different keys along for individual locks. Installed properly, master key systems can be customized to fit the specific needs of a building. It is not only convenient, but it is a cost-effective lock solution.
Types of Master System Keys
Change Key: Also known as sub-master key, this key-type unlocks only one or two totally identical locks. Without a master key system, a change key can be referred to as a regular key.
Master Key: This key-type can unlock all the locks a change key can unlock plus some locks with higher level of security.
Grand Master Key: This key-type can unlock several master keys and door locks within the system.
Great Grand Master Key: This key type can unlock all the grand master key locks, master key locks, and change keys under it.
The security system you have installed at your apartment building or business is crucial to the level of confidence you have when returning to the property. Our locksmiths at Surprise Locksmith 24 can help you design, install, and maintain customized master key systems to ensure only those with authorized access can gain entry into your property. We make use of industry-approved computer systems, allowing for future expansion and adjustment where necessary. Call us at (623) 414-4270 for a comprehensive solution to your security needs.